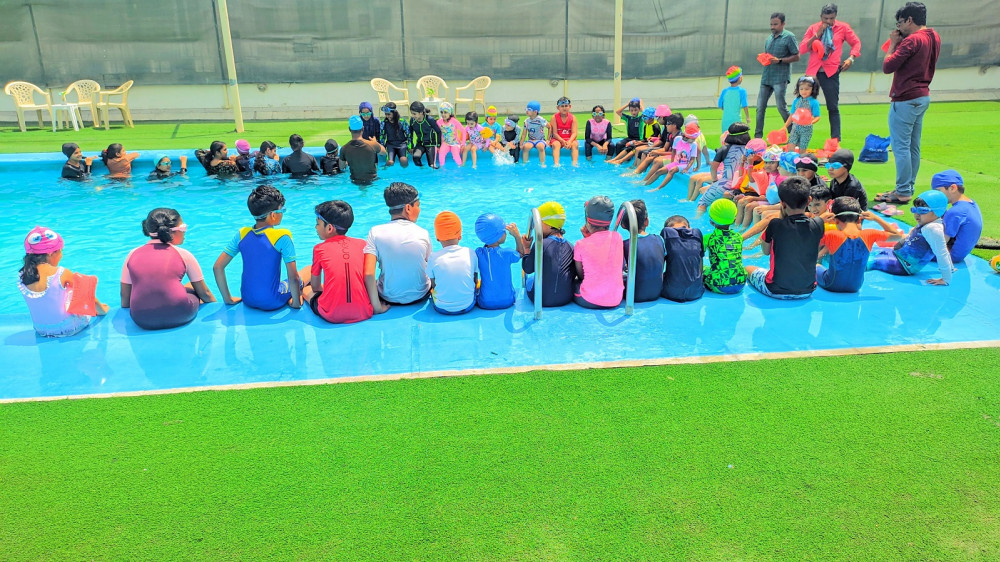 All necessary facilitates available for swimmer
2023-08-28 - swimming
Creating a kid-friendly swimming pool facility involves a combination of safety, entertainment, and learning. Here are some ideas and features you could consider:

Shallow Play Area: Designate a shallow section of the pool where young kids can play safely. Ensure that the depth is appropriate for their height and that the area is clearly marked.

Water Slides: Install smaller water slides suitable for children. Make sure they are age-appropriate and have proper safety measures in place.

Splash Pad or Water Play Area: Create a separate splash pad with various water features like fountains, sprayers, and interactive elements for kids to enjoy without entering the main pool.

Kiddie Pools: Have separate, smaller pools specifically for toddlers and infants. These pools should have shallow water and possibly some gentle water features.

Safety Measures: Safety is paramount. Have certified lifeguards on duty, prominently display pool rules, and consider implementing a wristband system for children to ensure they are under proper supervision.

Floats and Toys: Provide a variety of pool floats and toys that are suitable for children. These can add to the fun and engagement for kids in the water.

Swimming Lessons: Offer swimming lessons for kids of different age groups and skill levels. Make sure instructors are experienced in teaching children and focus on water safety.

Themed Decor: Decorate the pool area with colorful and child-friendly themes. This can create a visually appealing environment that appeals to kids.

Shade and Seating: Parents and caregivers will need shaded seating areas to supervise their children. Provide comfortable seating options with umbrellas or shaded structures.

Snack Bar: Have a snack bar offering kid-friendly snacks and drinks. Make sure to provide healthy options as well.

Changing Facilities: Ensure that there are clean and convenient changing rooms equipped with facilities suitable for children, including changing tables.

Events and Activities: Organize poolside events like water games, movie nights by the pool, or family-friendly pool parties to keep children engaged and excited.

Poolside Cabanas: Offer private cabanas for families to rent. These can provide a space for families to relax, change, and have their own area.

Underwater Features: Consider incorporating underwater murals, statues, or viewing panels that are visually stimulating for kids while swimming.

Regular Maintenance: Keep the pool area clean and well-maintained. Regularly check the water quality and safety equipment..